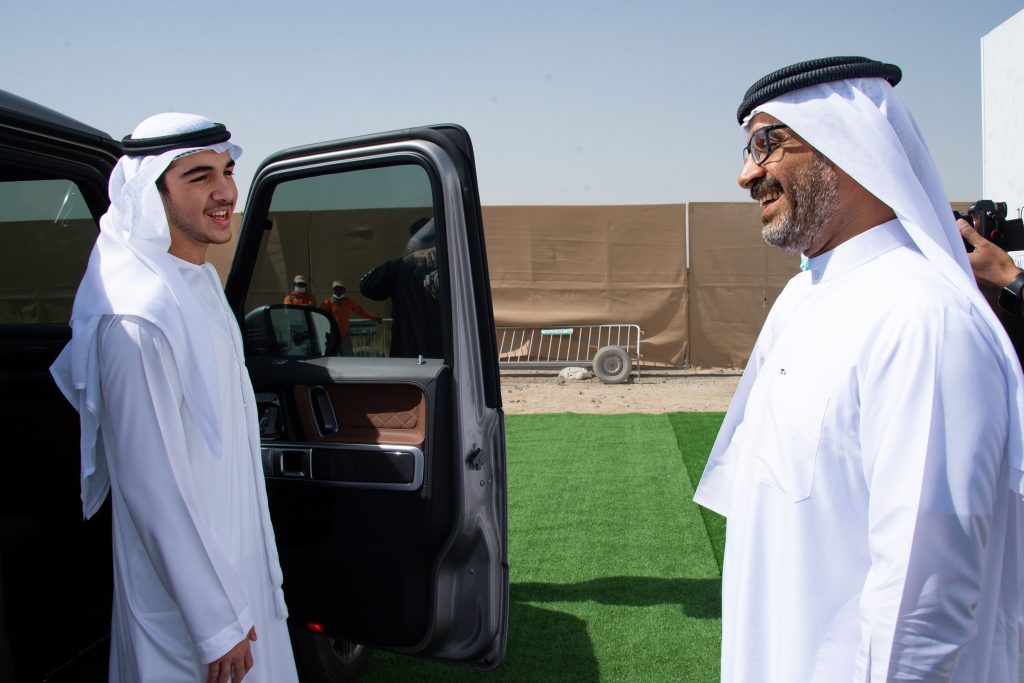 Dubai, 15 February 2022: Sheikh Mohammed bin Rashid bin Mohammed bin Rashid Al Maktoum has crowned the winners in the Elite Category of Fakhr Al Ajyal (Pride of Generations) Falconry Championship, organised by the Hamdan Bin Mohammed Heritage Center (HHC) at Dubai's Al Ruwayyah desert area on Tuesday, February 15.
Considered as crème de la crème or the best of the best, Fakhr Al Ajyal is the elite event for falconers from inside and outside the country looking for excellence through the competitions.
A total of 203 falcons qualified in the six races that were slated for the Elite Championship, which was reserved only for top-flight falcons that achieved the best times during the falconry competitions, including Sheikhs Category, Jirnas, Shaheen, Open Category and General Public Category.
The coronation was witnessed by HHC CEO Abdullah Hamdan Bin Dalmook, HHC Director of Championships Rashid Al Khasouni, and Chairman of the Fazza Championships Committee for Falconry Demaithan bin Suwaidan.
Bin Dalmook thanked Sheikh Mohammed bin Rashid bin Mohammed bin Rashid Al Maktoum for honouring the event and awarding the winners – manifesting the wise leadership's unlimited support for promoting heritage sports across the UAE.
"At HHC, we seek to develop the Fazza Championships for Falconry annually, and to introduce everything that is new and our goal is to make this tournament one of the most prominent in region and the world," he added.
Race results
In terms of race results, Team "F3" – led by falconer Khalifa Ahmed bin Mejren – achieved first place, followed by "M7" falconer Sultan Markhan, and Suhail Al Kindi (also from F3) in third place.
In Jirnas race, Al Dhafra came first and second, led by falconer Yarah Obaid Al Ketbi; while F3 falconer Suhail Al Kindi finished third.
In General Public category, Amin bin Abdullah Al-Mallah from Saudi Arabia came first, followed by Dubai Team falconer Butti Ahmed bin Al-Sheikh Mijren in second and third places.
In the Jirnas Open race, Dubai team falconer Butti Ahmed bin Sheikh Mujren achieved first place, followed by Khaled Nasser Al-Hajri in second place, and Saif Jamal Al-Hariz in third spot.
In the fifth run, Rashid Saeed Al Mansouri won first place, followed by Nasser Bathan Al Mansouri in second place, and Abdullah Al Falasi in third place.
In the final race, Thani Abdullah Al Falasi achieved first and second places, followed by Hamad Ahmed bin Al Sheikh Mijren in third place.