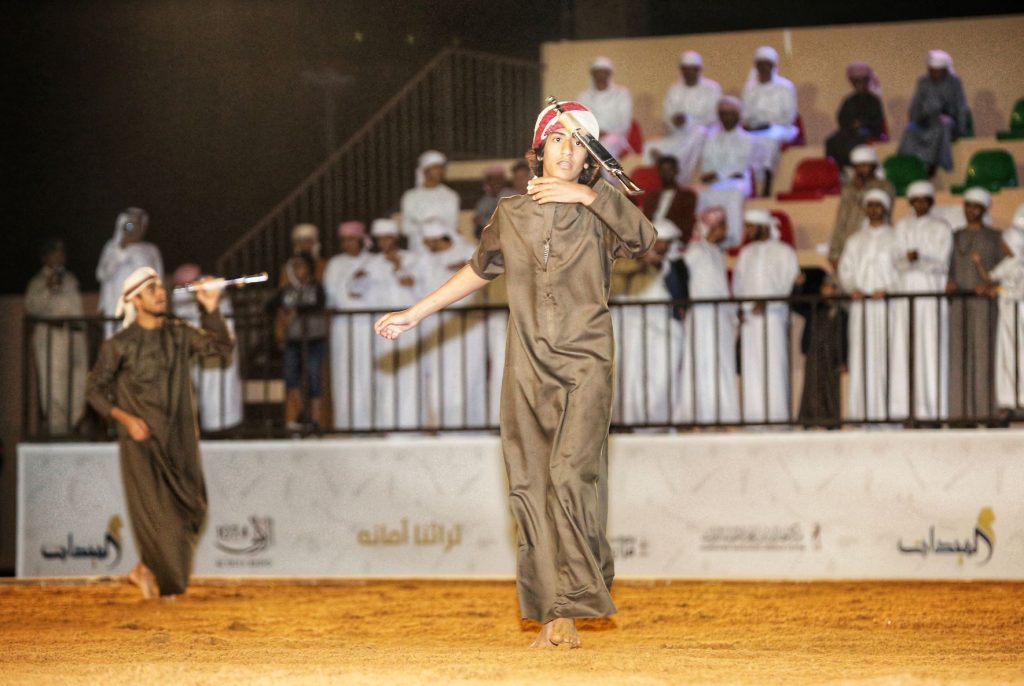 Dubai, 4 February 2023: The cast is now complete and the quest for the Fazza Gold Cup has entered its pivotal moment as Emirati teen Ali Mubarak Al-Azizi grabbed the fourth and final ticket to the Golden Square of the 23rd Fazza Championship for Youlah and 18th edition of Al Meydan Program on Friday night in Al Marmoon, Dubai.
Al-Azizi, who is from Al Ain, clinched the last qualifying card for the 'Golden Square' after he outperformed Mohammed Saeed Al-Muhairi from Abu Dhabi in the last quarterfinal performance. Al-Azizi outscored Al-Muhairi 50–49 in the Youlah round, after being tied 40-all in the other competitions.
Al-Azizi has joined other Golden Square qualifiers Ahmed Al-Marri, Abdullah Belheli and Muhammad Ahmed Al-Ketbi in the semifinal round of the annual championship organised annually by the Hamdan Bin Mohammed Heritage Centre (HHC) that will begin on Friday.
Youlah performance
Al-Azizi and Al-Muhairi showcased their varying style and rhythmic performance in the Youlah competition that was arbitrated by Khalifa bin Sabeen. In the end, it was Al-Azizi who got perfect 50 points and Al-Muhairi scored 49. Public votes via electronic casting also tilted in favour of Al-Azizi who earned 25 points.
Other results
In the swimming race held earlier in the week at Hamdan Sports Complex, Al-Muhairi pulled away with 10 points after the 10 marks, after covering the 50-metre lap in 39 seconds, despite encountering some problem with his goggles.
Both Al-Azizi and Al-Muhairi, however, did not score in the newly-introduced 'What is in the picture' portion.
Al-Muhairi scored another 10 points in the Arabic poetry reading competition that was judged by poet Muhammad Al-Murr Al-Abd. The two yuweels (participants) recited a poem from His Highness Sheikh Hamdan bin Mohammed bin Rashid Al Maktoum, Crown Prince of Dubai
Al-Azizi was on target in the following Saktoun shooting competition and scored 15 points but the 1,500-metre camel race was won by Al Muhairi who got 20 points.
Episode guest
Artist, Mohamed Al-Menhali, from Abu Dhabi was the guest of the episode. He expressed his appreciation of efforts by HHC to actively promote Emirate culture and heritage. The quarter-final round was broadcast live over Sama TV Dubai and Al-Oula Radio, as well as HHC social media channels.
Semifinal round
Nathalie Awadissian, HHC Director of Radio Stations Department, Media and Communication, and Head of the Organising Committee for HHC Championships, said the competition is now getting tougher as it enters the semifinal round. She also encouraged the qualifiers to continue their training and maintain their strong focus in the competition.
The semifinal round will start on Friday, February 10, at 9pm in Al Marmoon, Dubai.
Youlah training begins at 3 yrs
Meanwhile, HHC said training for Youlah starts at three years old. The center is keen to support the youth by holding various tournaments for schools and youth to prepare them and be part of the prestigious Fazza Championship for Youlah when they turn 14 years old.