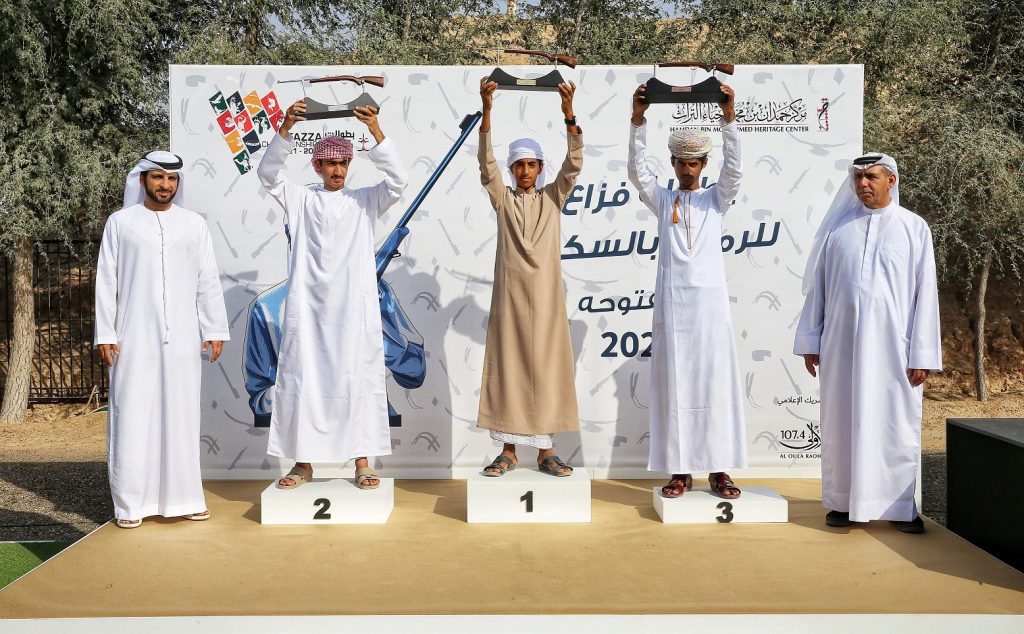 Dubai, 28 February 2022: Teenage shooters from the UAE and GCC displayed their skills in using traditional rifles at the Fazza Championship for Saktoun Shooting, organised by Hamdan Bin Mohammed Heritage Center (HHC), at Dubai's Al Ruwayyah desert area on Sunday.
Competitors from the Sultanate of Oman excelled in Juniors Category (for boys) with Omani Mohammed Saeed Al-Badi finishing on top of the field after achieving 79 marks, including 4 bullseye (X). He was followed by compatriot Fahm Jamal Al-Badi in second place with 78 marker, including 5X; while another Omani shooter, Muhammad Ali Al-Ma'ashani, ranked third with 77 points and 4X.
Thankful to family
Al-Badi thanked his father and his family for their support and guidance in achieving first place. He said he started shooting Saktoun, a traditional Bedouin rifle, at an early age. He added his love for the heritage was instilled in him by his family and their support guided him to achieve victory.
The top three winners were crowned by Brigadier General Mohammed Obaid Al Muhairi, Chairman of the Tournament Organizing Committee, and Rashid Al Khasouni, HHC Director of Championship.
Highest record
Al Muhairi said this year's edition of Fazza Championship for Saktoun Shooting has recorded the highest number of participation in the tournament's history. More than 2,000 male and female shooters are competing in the five categories: Men's Open; Women's; Juniors (Boys) Juniors (Girls), and Dropping Plates.
Al Muhairi also expressed his appreciation of the young shooters who showed high professionalism and skill during the competitions, stressing that this is the main objective of establishing the Juniors category to develop the skills of young shooters, who will keep the tradition of the heritage sport alive for the succeeding generations.
The competitions will continue with the qualifying round for Men's Open category on Friday, March 4, and the championship round will be on Saturday, March 5.