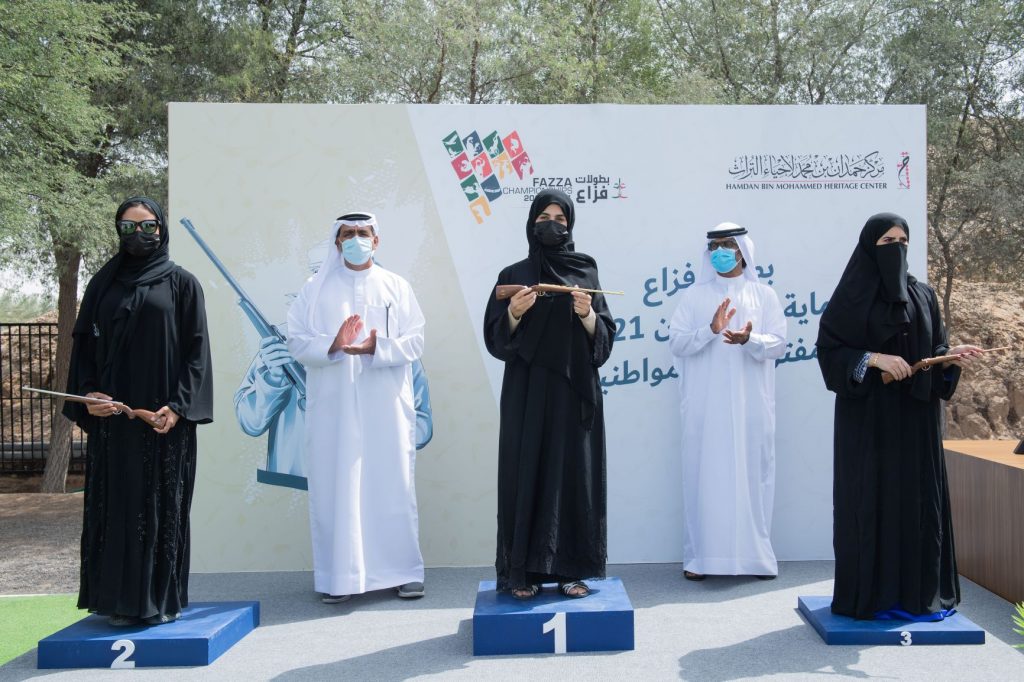 Amna Khalifa Al Ketbi and Fatima Khaled Al Minhali crowned champions in the Women's Open and Juniors Open category respectively
Dubai, 10 March 2021: Emirati women showed their supremacy at The Open Fazza Championship for Shooting – Saktoun (Women's category). Focused and on target, UAE national Amna Khalifa Al Ketbi won the Women's finals while Emirati teen Fatima Khaled Al Minhali grabbed the Juniors category trophy.
Saktoun, which is a long rifle used in the past for hunting, is an important part of Emirati heritage. The Open Fazza Championship for Shooting – Saktoun was organised by the Hamdan bin Mohammed Heritage Center (HHC) on Tuesday at Fazza Shooting Range in Al Ruwayyah.
Emirati excellence
It was a one-two finish for Emirati ladies in the Women's Open Category. Al Ketbi grabbed first place after hitting 78 points with 3X (bullseye). She was closely followed in second place by compatriot Hanadi Khalifa Al Kabouri who finished with 77 markers and 3X while Omani national Ghusia Ahmed Al Deri came third with a score of 76 points and 2X.
Emirati teens also dominated the girls' Juniors category and grabbed the first three places. Fatima Khaled Al Minhali came first with 77 points and 3X; Amna Hassan bin Shahdoor finished second with 74 markers and 2X, and in the third place was Amna Youssef Hassan with 68 points.
The winners were crowned by H.E. Abdullah Hamdan Bin Dalmook, CEO of HHC and Brigadier Mohammed Obaid Al Muhairi, Head of the Fazza Shooting Committee- Saktoun.
A housewife who excels at shooting
Amna Khalifa Al Ketbi from Sharjah is a prime example of an Emirati woman who balances between being a housewife and at the same time being able to compete in a traditional sport such as Saktoun shooting. The first place winner expressed her happiness with this achievement, and said: "I use my free time to train with the support of my husband, my family, children and parents. They all motivate me to excel. And now, my happiness is doubled after my sister's daughter also finished first place in the Juniors category"
Will continue to win
Fatima Al-Minhali said she is always determined to win. "Proper training and focus are the secrets to success," she said. Fatima also thanked the organisers and her mentors for the win.
Effective training
Meanwhile, Omani national Ghusia Ahmed Al-Deri, who is also a UAE resident, said: "I will pass on my skills to my children and teach them everything they need to know about Saktoun shooting. My advice to women is to take care of their health, their family and to train effectively to excel or achieve something in sports."
Brigadier Mohammed Obaid Al Muhairi, Head of the Fazza Shooting Committee- Saktoun, noted Emirati women have come a long way in promoting and participating in various heritage sports. He noted: "The achievements by Emirati women during the tournament is a testament to the efforts done in the UAE to give women equal access and opportunities to excel. After their victory, now, we can say that they are ready to take the next step and bring their game to international stage."