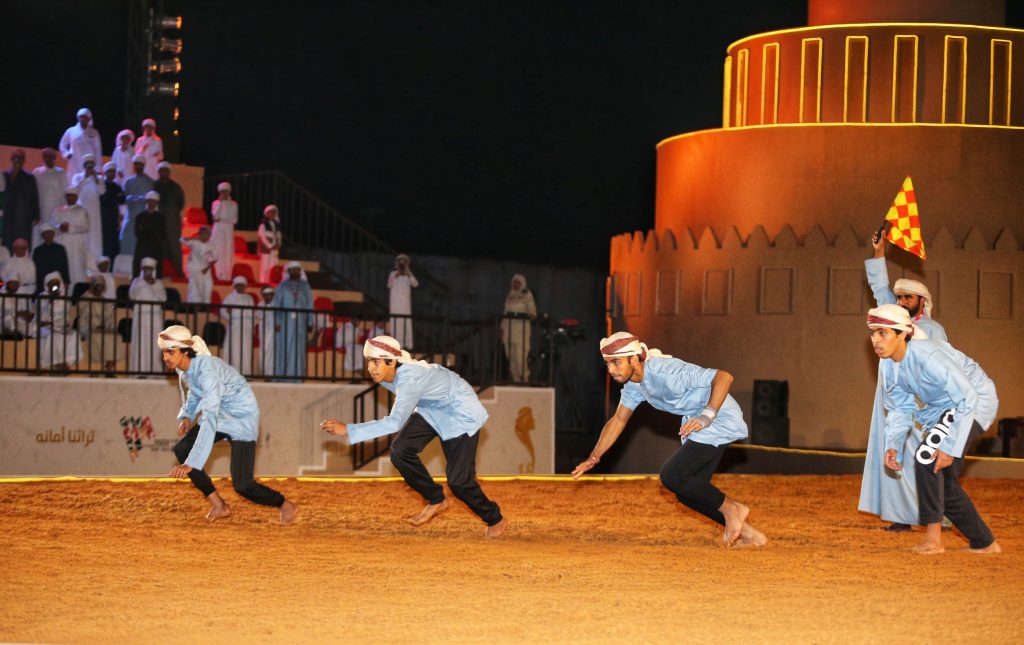 Dubai, 18 December 2022: Two more young Emiratis have qualified to continue the journey to become the next Meydan Grand Knight, following intense competition during Episode 2 of the 23rd Fazza Championship for Youlah and 18th edition of Al Meydan Program over the weekend in Al Marmoom.
The intensity was high from the start of the programme as four yuweels (participants) showcased their skills in Youlah – the heritage sport where yuweels are judged based on their footwork and fluidity of performance while dancing and throwing a replica wooden rifle. The also competed in camel racing, Saktoun (traditional Emirati rifle) shooting, Arabic poetry reading, swimming and the newly-introduced 'What is the picture' competition.
As soon as the dust settled, Emirati teenagers Ali Al-Azizi from Al Ain and Ali Al-Ghafli from Ajman emerged as the winners, following the correction of scores, with 70 and 65 points respectively.
Khaled Al-Menhali from Abu Dhabi and Ahmed Al-Rashdi from Sharjah did not make the cut after settling with 45 markers each.
Amendment
Initially Khaled Al-Menhali was announced as the one who qualified to the next but following the review of scores, Ali Al-Ghafli was declared the qualifier after he and Al-Azizi both gave the correct answer during the "What is the picture" competition about a marine image related to diving. They both earned to 20 marks, while Al-Menhali and Al-Rashidi did not pronounce correctly the right word.
Results
There were a total of 6 competitions. In the 'What is the picture' competition, both Al-Azizi and Al-Ghafli answered correctly what is the marine image from a heritage sport related to diving, and both earned 20 marks each.
Khaled Al-Minhali and Ali Al-Azizi, meanwhile, shone brighter in Youlah and received 25 points each during the segment refereed by Khalifa bin Sabeen, who advised the yuweels to focus on enhancing their skills in throwing the replica as high as they can while displaying their grace in footwork and traditional dancing.
In the swimming competition held earlier at Hamdan Sports Complex, Ali Al-Ghafli and Ahmed Al-Rashdi won with 15 markers each, while in Saktoun shooting that was held live on
on Al Meydan stage, Ali Al-Azizi and Ahmed Al-Rashdi were on mark to hit the target and scored 15 points each.
In the Arabic poetry competition, which was judged by poet Muhammad Al-Murr Al-Abd, the participants recited a poem from the words of His Highness Sheikh Mohammed bin Rashid Al Maktoum, Vice President and Prime Minister of the UAE and Ruler of Dubai. Both Ali Al-Azizi and Ali Al-Ghafli showed their flair in poetry and scored high on points.
In the camel race also held live at Al Marmoom camel race track, Khaled Al Menhali and Ali Al Ghafli emerged as the top two finished and each scored 20 points.
Thanks to supporters
One of the winning yuweels, Al-Azizi said: "I dedicate my qualification to the next round to everyone who supported me and helped me during the qualifiers until this moment. It was a strong competition with my brothers Al-Menhali and Al-Ghafli, and I thank God, I was able to qualify. The next stage requires more effort because the competition will certainly increase, so I will work double during trainings.
Highlighting Emirati heritage
Nathalie Awadissian, HHC Director of Radio Stations Department, Media and Communication, and Head of the Organising Committee for HHC Championships, highlighted HHC's goal in promoting Emirati heritage among the youth. She noted HHC has been holding the competition for 23 years and every year, the championship grows bigger in terms of participation and level of competition.
The second episode of the elimination round was presented by Rashid Al Khasouni, HHC Director of Championships, and broadcast live over Sama TV Dubai and Al-Oula Radio 107.4 FM. Poet Dhiyab bin Ghanem Al Mazrouei, who holds a Ph.D. in political science, was the episode's guest and recited one of his poems.
Episode 3
The third round of elimination will take place on Friday, December 23, at 9pm.