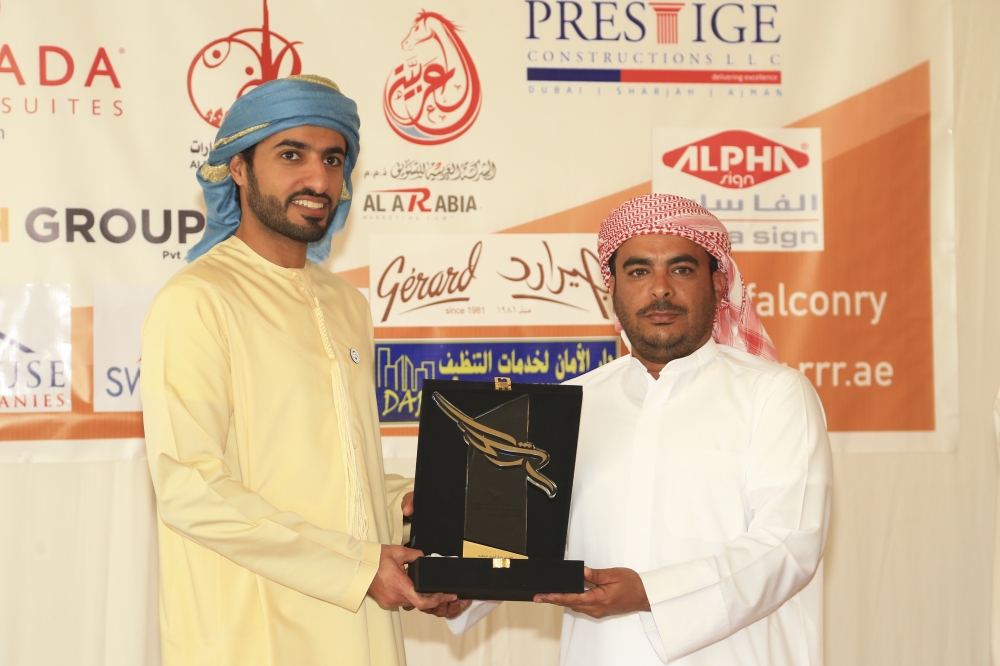 AJMAN, 28th January 2018: HH Sheikh Rashid Bin Humaid Al Nuaimi, Head of Ajman Municipality and Planning Department, awarded the winners of the second edition of the Rashid Bin Humaid Falconry Championship held under the patronage of His Highness Sheikh Humaid bin Rashid Al Nuaimi, Supreme Council Member and Ruler of Ajman, and His Highness Sheikh Ammar bin Humaid Al Nuaimi, Crown Prince of Ajman and Chairman of the Executive Council, and held in cooperation with the Hamdan Bin Mohammed Heritage Center (HHC) in Al Helio area of Ajman on 27th January.
HH Sheikh Rashid bin Humaid Al Nuaimi expressed his appreciation for the efforts of all those who contributed to the success of the tournament in its second year, specifically in the juniors category, as their main objective is to focus on encouraging young people to practice this heritage sport.
He said: "This year's championship has witnessed an increase of about 100 participants and two new events were added for juniors. Every year we take the views of the participants and try to meet all their requests. We hope they will take back positive memories of their participation."
His Excellency Abdullah Hamdan Bin Dalmook, Chief Executive Officer of HHC, stressed that the cooperation of the HHC to revive heritage sports is not new to them and they are willing to cooperate in all emirates of the country.
"The establishment of these heritage competitions comes under the directions of His Highness Sheikh Hamdan Bin Mohammed Bin Rashid Al Maktoum, the Crown Prince of Dubai. We wish to continue this cooperation for years to come," said HE Bin Dalmook adding that they have an intention to establish a club in Ajman for heritage sports in future.
Equal
Ahmed Rashid Al Shamsi, Chairman of the Organizing Committee, said the objective of the competition was to give equal opportunities for Emiratis to excel in the heritage sport of falconry.
"We accepted entries from those who have not been placed among the top 10 in any previous falconry championships because we want to create new champions in the sport. This also allowed not so strong or new falcons to be entered in this competition. We had a massive improvement in the number of entries from the inaugural edition. Next year we want to organize a bigger championship with the participation of falconers from the GCC and Asia as well," he said.
Champion UAE swimmer Mubarak Al Bishr revealed that he participated in the falconry championship despite suffering from fever after his exploits in the pool the previous day.
"After winning two gold medals at the National Swimming Championships o Friday, I suffered from fever but that did not stop me from attending the tournament this morning (Saturday) and participating as it has become a major tournament for falconers in the country," he said lauding the improvements in the competition. "The registration process went smoothly. We did not face any difficulties in the tournament and all the arrangements were made for us to focus only on the events."
Saeed Al Mansouri said that the championship confirms its position as a destination that gives the falconers an opportunity to participate. He said: "Although the tournament is held at the same time as the President's Cup of Falconry, the falconers managed to balance the two tournaments. We made every effort to share the best falcons in order to try to win titles here."
Dubai Falcon Center owner Hussain Nasser Lootah said they participated with 18 entries.
"This is a chance to compete against other falcons. Some of our falcons are in Abu Dhabi and some in Ajman. It is part of our culture and tradition," he said.
Another falconer Ahmed Al Ketbi said that the high number of participants and the strong competition in the second edition confirms that the championship has built on the success achieved in the inaugural year, which is encouraging more falconers to participate and compete in it and wished that the championship will continue for many years to come.
Results
The Rashid Bin Humaid Falconry Championship was worked off in five categories: Pure Jeer, Jeer Tabaa, Jeer Shaheen and Qarmoosha Jeer (Adults) and Wahish Rabi (Juniors).
Hazza Mohammed Al Mahmoud's falcon named 'M7' won first place in the Jeer Shaheen event clocking 18.292 seconds. Hussain Nasser Lootah entry 'Gebrite' (18.403) and Rashid Saeed bin Surood's 'The Law' (18.454) took second and third position respectively.
Rashed Al Ketbi's entry 'T14' won the Jeer Tabaa Farkh event clocking 18.543 seconds. Saud Rashid Al Mazroui's entry 'Methyl' won second place clocking 18.700 while Butti Ahmed Mijrin's 'Mentov' (18.729) took third place.
In the Pure Jeer event, Hamad bin Mijrin's 'H6' clocked a winning time of 19.400 seconds. Saeed Al Mansoori's entry '6' (19.546) and Hussain Nasser Lootah's 'H18' (19.550) won second and third places respectively.
Ahmed Al Ketbi's entry 'Decorated' clocked 20.367 seconds to win the Qarmoosha Farkh event. Hamed Al Shamsi's entry named 'Love' (20.709) and Hussain Nasser Lootah's '63' (20.769) won second and third positions respectively.
In the junior competitions held in Wahish Rabi category, Saif Mohammed Al Qamzi's falcon 'Shawash' clocked a winning time of 22.345 seconds. Khalid Marwan Mijrin's entry '288' won second place clocking 22.563 and Ahmed Juma Al Falahi's entry 'USD' took third place in a time of 22.836.
Sponsors of the Rashid Bin Humaid Falconry Championship are: Ramada Hotel & Suites Ajman, Arab Marketing Company, Al Murtoon Real Estate, Prestige Contracting, Sweet Homes and Tech Group.