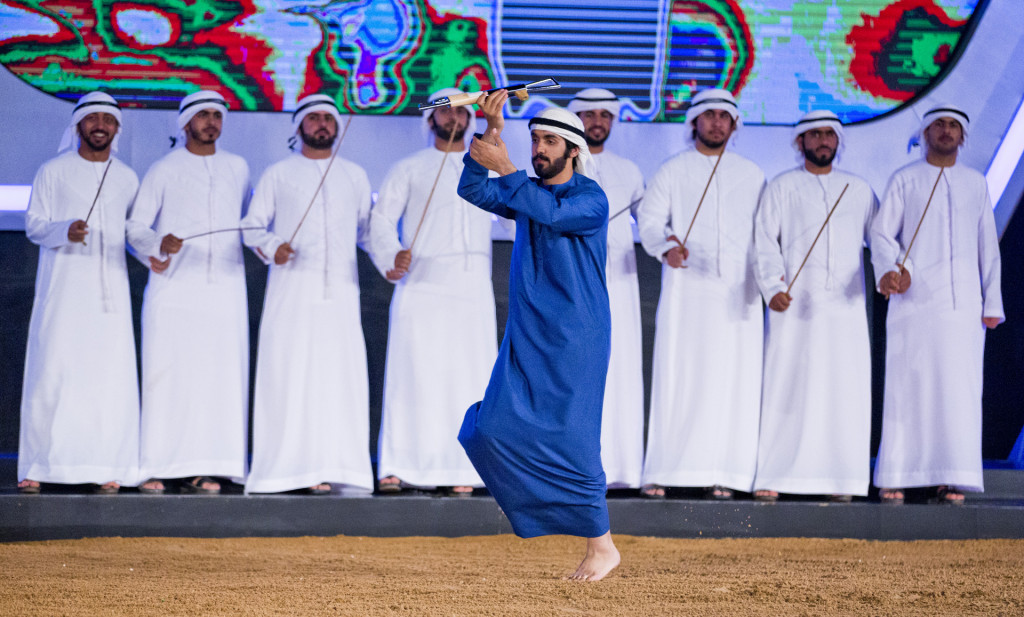 DUBAI, 10th February 2018: Hamdan bin Musleh Al Ahbabi became the first contestant to book his berth in the final of the 18thedition of the AED 1 million Fazza Championship for Youlah and 13th edition of Al Meydan Program at Al Meydan Fort of Global Village on Friday 9th February.
The announcement was made during the ninth episode of the championship amid much suspense though it seemed inevitable after he got a perfect score of 50 in the 'Golden Square' round earlier.
His rival Saeed Mohammed Sweidan Al Ketbi will remain in the competition as he will compete in the battle for third and fourth place next Friday 16th February.
Football
The Fazza Championship for Youlah has entered the final stages of any sporting event.
"There are four guys in the final like say in football. Insha Allah (God willing) I will win," said Hamdan Al Ahbabi, runner-up last year.
The 26-year-old from the emirate of Dubai said the championship has helped him learn about the heritage of the country.
"They put us in a competition like making fishing rods which I won. It's all about learning our tradition. They want us to know more about our traditions. Bedouins in the UAE come from the mountains, deserts and sea. I'm from desert. I didn't know our sea-faring traditions. Now I know," said Hamdan Al Ahbabi who has been performing Youlah for the past five years.
Drama
The drama to select the second finalist became more intriguing after Matar Ali Ahmed Rashed Al Habsi (number 7) and Saeed Ali Hamad Ali Al Kaabi (number 13) were tied with 49 points each during the 'Golden Square' or second semi-final on Friday with both getting a raucous reception from the large crowd present. Voting from the public will decide the winner in the final analysis.
Matar Al Habsi hailing from the rugged mountainous region of Ras Al Khaimah took the stage first and gave a beautiful exhibition of gun control. He spun the Yuweel weapon with ease on either hand like a magician waving his wand and won the hearts of the audience with his classy performance and pleasant demeanor. He managed to ring the laser bell at 17 meters only twice out of four attempts but his fluid movements in perfect rhythm to the music earned him 49 points from the three-man Jury.
Pugnacious Saeed Al Kaabi from Al Ain decided to adopt a different tactic before entering the main stage. He was more determined to ring the laser bell which he succeeded five consecutive times at the 17-meter mark. He made up for lack of rhythm with his perfect throwing technique and gun control to be awarded 49 points for a thrilling tie in the second semi-final.
Finalists
Organized and supervised by the Hamdan Bin Mohammed Heritage Center (HHC) to revive heritage sports, 16 finalists vied for the grand prize of AED 1 million and the Fazza Youlah Championship Cup over 13 rounds of the competition every Friday at 9pm.
Held at HHC's Heritage Village at Dubai's Global Village, the qualifying rounds saw the participation of 411 contestants, prior to the launch of the Youlah Championship in December.
This year's Championship saw four performers in every episode until the second round and 'Golden Square' stage. The 'Golden Square' round will comprise four contestants, two of whom will be competing for third and fourth place, and the other two will be competing for first and second place.
Voting
Voting for the finalists is according to their numbers as follows: Saeed Ali Salem Al Ketbi (number 1) of UAE; Mabkhout Salem Hamad Al Ameri (number 2) of UAE; Abdulrahman Abdullah Khalifa Salem (number 3) of Bahrain; Rashid Saeed Bin Harmash Al Mansouri (number 4) of UAE; Thamer Rashed Masood Al Maamari (number 5) of Oman; Saeed Mohammed Sweidan Al Ketbi (number 6) of UAE; Matar Ali Ahmed Rashed Al Habsi (number 7) of UAE; Hamdan Saeed Al Rumaithi (number 8) of UAE; Abdullah Suhail Amer Al Ketbi (number 9) of UAE; Saeed Mohammed Jumaa Al Hairi (number 10) of UAE; Hamdan bin Musleh Al Ahbabi (number 11) of UAE; Hamad Thani Al Balkadeeda Al Falasi (number 12) of UAE; Saeed Ali Hamad Ali Al Kaabi (number 13) of UAE; Saif Sultan Saeed Al Ketbi (number 14) of UAE; Mohammed Abdullah Hamdan bin Dalmook (number 15) of UAE; Aseel Akram Tarek Abu Ghali (number 16) of UAE
Sponsors
The official sponsors of Hamdan Bin Mohammed Heritage Center are: Al Tayer Motors Land Rover, Dubai Airports, Dubai World Trade Centre, AW Rostamani (Arabian Automobiles), Global Village and Al Oula radio station.
Folk art
'Youlah' is a well-established folk performance over the years where an iconic rifle is spun around to the rhythmic beat of Emirati traditional music. One of the heritage traditions performed by the young and the not so elderly during ceremonies, Youlah as a sport began with real weapons in the past and then evolved into a weapon used with a hollow inside and free of ammunition. Now it has become even lighter enabling participants to display greater agility and more skills in a dance form.