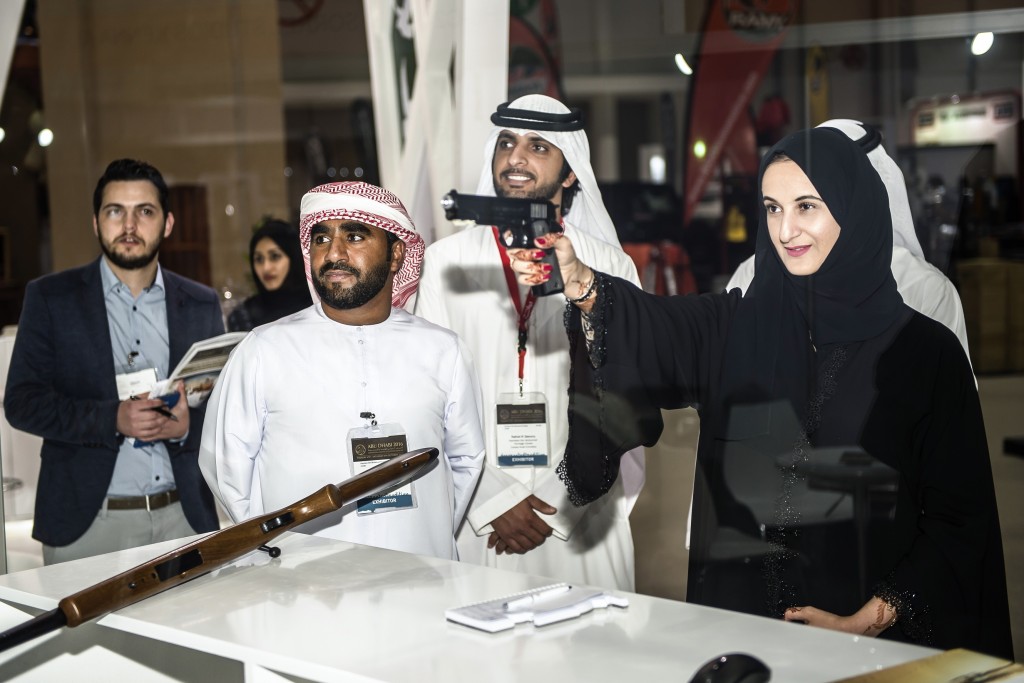 Her Highness Sheikha Aisha bint Rashid bin Ali bin Hamad Al Mualla visits HHC pavilion
Fazza Championships launches interactive platform at the Abu Dhabi International Hunting and Equestrian Exhibition
Dubai – United Arab Emirates, October 5, 2016 – Hamdan bin Mohammed Heritage Center (HHC) have participated in the Abu Dhabi International Hunting and Equestrian Exhibition (ADNEC) for the third consecutive year. HHC opened its participation at the event, which takes place from October, 4th to 8th at ADNEC in Abu Dhabi, with an interactive platform aimed at helping the public to learn about tournaments and activities organised by the center, through a series of displays and interactive simulations.
Her Highness Sheikha Aisha bint Rashid bin Ali bin Hamad Al Mualla visited the HHC pavilion on the first day of ADNEC. Here, she provided a glowing review on the efforts of the center to raise the profile of local heritage, through the adoption of the latest technologies such as a simulator device for target practice, which Her Highness tried out herself.
HHC representatives demonstrated great enthusiasm in interacting with visitors at platform number D25 in Hall 6, and in raising awareness in popular Emirati traditions for citizens, residents and visitors, in addition to outlining heritage activities and tournaments organised by the center.
Souad Ibrahim Darwish, Director of Championships at HHC said: "We are delighted and proud to participate in the exhibition, with our attendance aimed at spreading awareness and knowledge about all aspects of UAE national heritage. Our attendance forms part of our efforts to reach the widest possible audience across the UAE and further afield, with this event providing the ideal opportunity to launch our platform, which employs advanced technologies to engage with the public in an innovative way and to simulate the experience of participating in the Fazza Championships. "
Souad added: "From the first day, we have received a large number of visitors, with school students in particular showing a great interest in our innovative installation. This exhibition is an important international gathering with aims that run in parallel to HHC's, including the preservation of cultures and traditions, as well as showcasing new and innovative features in the hunting and equestrian field."
This year HHC have a significantly larger stand than in the previous two years, with its total area increasing up to 240 square meters, which is designed to showcase the heritage dimension of the championships. The championship logo is divided into major sections, with each championship element featured through a video display, providing visitors with a clear understanding of the various tournaments on offer.
HHC provided a simulator for shooting for the first time, in the presence of Rashid Al Kalbani, Fazza Shooting Field Supervisor, who encouraged visitors to become involved in shooting championships and to join free shooting courses at the HHC's dedicated training grounds. In addition, the stand this year is enriched with a unique photo gallery capturing the best moments from last season's Fazza championships.
Furthermore, the stand also includes a mini exhibition of the Wathiqati initiative. Fatma Al Falasi, Head of Libraries Division at HHC said: "We are pleased to promote the Wathiqati initiative at this exhibition, with the number of documents already in excess of 2400 so far. This year we have carefully selected a group display of them in order to highlight this important heritage initiative, which aims to contribute towards the preservation of culture through the public submission of historical documents, collectibles, and archived material".
Additionally Al Oula radio station, which is owned by Hamdan Bin Mohammed Heritage Center, will announce the launch of its daily competitions programme at HHC's stand, which managed to generate interaction amongst visitors and participants from the first day of the exhibition. Al Oula Radio is keen to highlight all heritage related events in addition to local tournaments, which reflect its vision to support Emirati heritage.