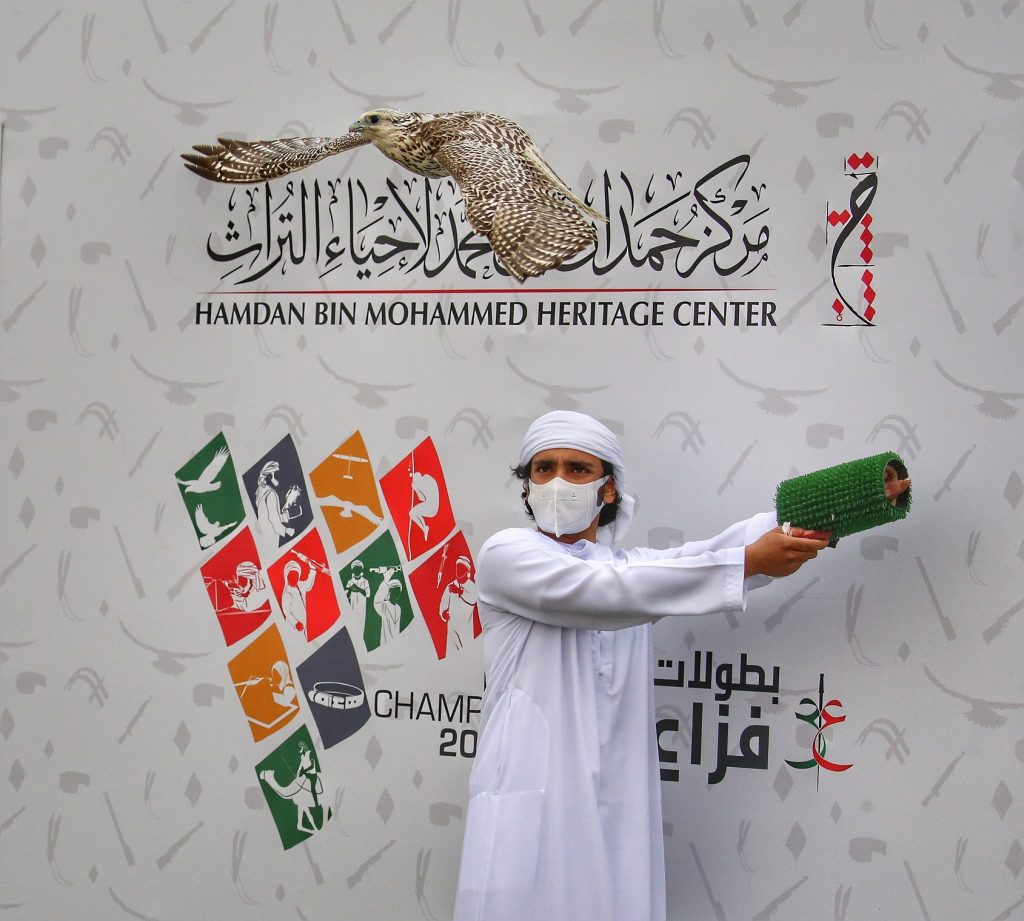 Dubai, January 1, 2021: Races at the Fazza Championship for Falconry–Telwah continues today, Sunday (January 2), with elite Emirati falconers in the Open Category competing in the prestigious heritage sports at Ruwayyah desert area in Dubai.
Organised by the Hamdan Bin Mohammed Heritage Centre (HHC), the falcon racing will run daily until January 14. Falcons taking part in the competition are broadly separated into Farkh (under one year of age) and Jirnas (over one year), and each category has races for the Saker (Falcon) and Shaheen (Peregrine).
General Public Category
The General Public Category concluded on Friday, December 31. In the first race, Ahmed Al Khaili's bird 'Al-Dana' finished the 400-metre race in first place with a time of 17.926 seconds, followed by Ali Saeed Al-Amimi's falcon 'A3' with a time of 18.272 seconds, while Mubarak Matar Al Khaili's '97' came in third place at 18.346 seconds.
In the Jirnas run, the falcon of Rashid Saeed Al-Mansoori named 'Caspian' dominated the flock with a time of 18.375 seconds, while Abdullah Al Falasi's 'J2' came in second place at 18.508 seconds, and third was Nasser Hussain Lootah's bird 'Dou' (18.627 seconds).
In the Farkh race, Ahmed Mohammed Al Falasi's falcon 'Sada' grabbed the top spot with a time of 18.166 seconds; in second spot was Rashid Marwan Al-Marri's 'Zam' (18.232 seconds, and third was Abdullah Rashid Al-Mansoori' '86' (18.432 seconds).
In another Jirnas race, Ahmed Saghir Al Ketbi achieved first place with his bird 'Mazala' that registered a time of 18.878 seconds. Coming very closely in second place was Abdullah Al Falasi's 'JWG' (18.960 seconds), and third was Marwan Muhammad Al Marar's bird 'Nashwah' (18.981 seconds).
Pure Jeer runs were also held for the public owners. Ahmed Ateeq Al Muhairi's bird 'B42' finished very strong in first place with a time of 17.174 seconds; second was Rashid Suhail Al-Marri's falcon 'SBS' (17.602 seconds) and in third spot came Rashid Saeed in Al-Jafila's falcon 'B' (17.651 seconds).
Juma Abdullah Al-Falahi's falcon 'B4' also won first place in one of the races with a time of 17.286 seconds while in the main Farkh race, Saeed Mosbeh Al-Shaddi's bird 'Mohatheb' dominated the field with a time of 17.364 seconds Hamad Hussain Al Hammadi's bird "111" also achieved first place in another race with a time of 17.435 seconds.
Stronger and faster every year
Demaithan bin Suwaidan, Chairman of the Fazza Championships Committee for Falconry, noted: "The level of competition grows bigger and stronger every year. Each falconer is aiming a podium finish as only the top three finishers in each class are qualified to compete in the Elite category."
He also acknowledged the growing diversity of participants in terms of age and falconry skills. "This season we have seen a new generation of young falconers that we have not seen before. They engage in a traditional sport taht has always been associated with the traditional Arabian values of courage, honour and nobility as well as nature conservation. These are the values that we promoting and passed on from many generations."
Bin Suwaidan also pointed out the importance training before the races, and he urged the participants to continuously innovate and improve their falconry skills every year. He noted: Patience and hard work always pay off in the end and it is the best formula to success."