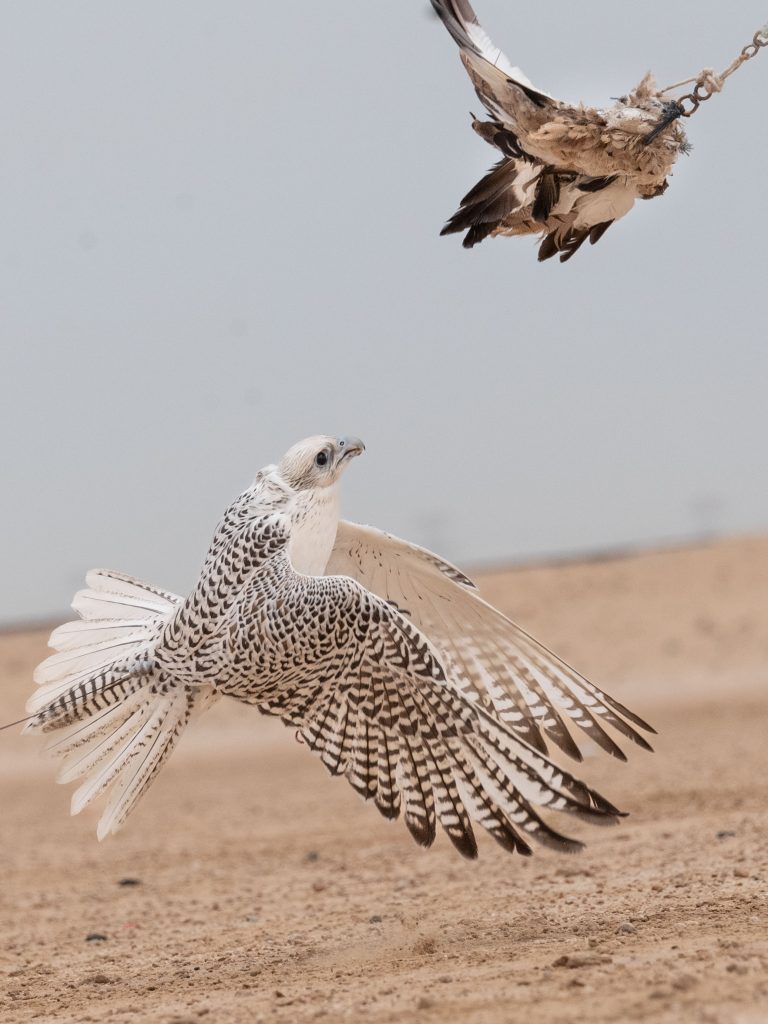 Dubai, December 30, 2021: Competition heats up at Fazza Championship for Falconry–Telwah as the General Public Category concludes on Friday, December 31, at Ruwayyah desert area in Dubai.
Organised by the Hamdan Bin Mohammed Heritage Centre (HHC), the falcon racing will run daily until January 14 next year.
On Thursday, December 30, the General Public Category had races in Pure Jeer class. Rashid Saeed Al-Mansoori's falcon "Champion" was a real champ after finishing the first 400-metre race with a time of 17.655 seconds. Al-Mansoori's other bird 'My Youth' also won second place with a time of 17.700 seconds; while third place was grabbed by Ahmed Ateeq Al-Muhairi's bird "T17" with a time of 17.706 seconds.
In the Jeer race, Ahmed Ateeq Al Muhairi won first place with his bird "T03" that finished the race in 17.173 seconds. It was closely followed by Sultan Rashid Al-Mansoori' "Goutros" with a time of 17.334 seconds, and in third place came Obaid Salem Al-Ketbi's "T126" with a time of 17.346 seconds.
In the third race (Jeer class), 'Bahlouk' owned by Saeed Khalifa Al Rumaithi won the first place with a time of 18.597 seconds, followed by Abdullah Al Falasi's "Hamran" with a time of 18.800 seconds, and in third spot came Sultan Muhammad Al Hamli with the bird "Kahilan" with a time of 18.865 seconds.
In the Jirnas race, Fahd Muhammad Al-Mansoori's bird 'Red Joker' dominated with a time of 18.482 seconds, followed by Obaid Khalifa Al Khaili's 'Kevin' with a time of 18,587 seconds. In the final race, Salem Ghanem Al-Zahmi achieved first place with the his bird "Lahob" finishing in 19.173 seconds, followed by Matar Khalaf Al-Mansoori's bird "Wi-Fi" with a time of 19.471 seconds, and Rashid Abdullah Al-Kuwaiti's bird "Passat" came in third with a time of 19.647 seconds.
Arabian heritage
Rashid Al Khasouni, HHC Director of Championships, "The new falconry season has proven to be highly competitive. Falconry, as a traditional sport, has always been associated with the traditional Arabian values of courage, honour and nobility as well as nature conservation, respect for animals and the camaraderie among falconers. These are the values that we promoting at this sport – it is also a celebration of our heritage that is passed on from many generations."
Break for the holidays
The championship will take a one day on Saturday, January 1, for the holidays. Races will resume starting on Monday, January 2.